Last week I painted my nails with
Wicked by Essie
. And let me tell you that Essie and I are becoming pretty good friends. Especially because yesterday I was at
Walmart
and when I was looking through their nail polish section I discovered that they now carry Essie nail polish! We are on our way back to the
middle of nowhere
so it is good to know that I will be able to find them at the local Walmart (or will I?).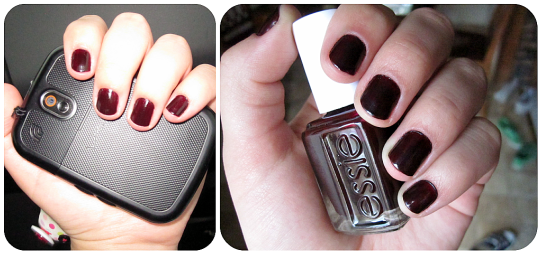 When I paint my nails dark or red or any color that is really contrasting, I like to file them down as short as I can get. :) I think it looks better.
I got this one at Ulta with the Matte About You from the previous Nails post. It was on clearance too! Yes!
Now back to
Wicked
, in the pictures above, I applied
three coats
. What I love about this nail polish is that it's not too thick. Which makes it really
versatile/cooperative
. The down side is that you have to apply more coats, which may be my
lack of skills
but when I applied two coats it was too streaky. It lasted me a whole week without any chipping. Even after I "deep cleaned" the house in Florida before we turned it in. I am impressed!
I hadn't bought/worn
dark nail polish
since High School, so I think this was a good addition to my collection. I like the wine color, it's a good winter nail polish. Do you have a favorite Winter nail polish color?