Last week I wore this beauty as we drove from Florida to Idaho (I know you must be tired of hearing about it).
OPI- Done Out in Deco.
This is my first
OPI
nail polish (or should I say Lacquer?) and I LOVE it. I had heard wonderful things about it and they are true! It has been a week and it
barely started to chip
. What I love most about it is the size of the
brush
. In two strokes you have your nail covered.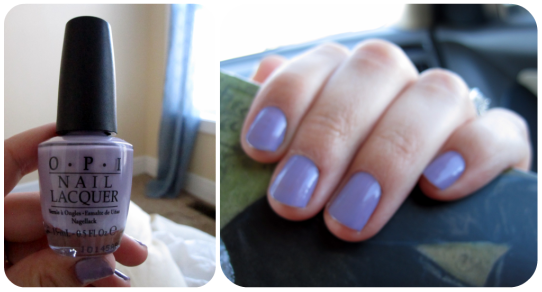 Sorry about the quality of the picture on the right! Also it looks pretty dark. It is a little lighter most of the time.
In the pictures above I have
two coats
of it on and it was plenty, since it is pretty thick.
I had been looking for a
lavender/lilac
color and I found this one in the clearance section at Ulta for $3! Score! I am going to miss Ulta. I don't care much about what nail polish collection/color is in. I wear whatever I am
in the mood for
. So I get really happy when I find a color that I like for less than half of the original price (who doesn't?!).