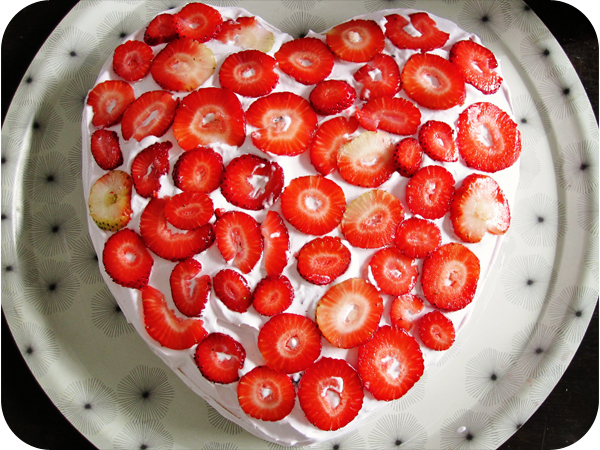 I love my heart shaped cake pan!
So my friend
Leslie
gave me this wonderful recipe for a yogurt cake. It is moist and delicious. And the best part is you can pretty much choose the flavor you want. This cake is perfect for a Summer dessert but I will make/eat it anytime of the year.
Leslie
never gave me the name of the cake, and since I always choose a Berry yogurt I decided to give it this cheesy name, haha:
Berry Delicious Yogurt Cake
1 Box of Betty Crocker White Cake
4 Yoplait yogurt cups 6oz [170 g] (I always get the Fat free ones and I usually get 2 of one flavor for the cake and then 2 of another flavor for the topping, usually berries. I am yet to try something crazy like key lime pie and such. Let me know if you do try!)
1 container of fat free Cool Whip
1 box of berries (optional!)
Pre-heat the oven to whatever setting the box says. Mix together the white cake mix, 2 yogurt cups, 3 egg whites and 1 1/3 cups of water, do not put the oil that the box calls for! Pour it on a greased pan, put it in the oven for however long the box says.
Let the cake cool completely (I usually put it in the fridge) before adding the topping. Leave the cool whip in the fridge instead of freezer so it will be softer. Gently stir together the whip cream and the other 2 yogurt cups. Then spread it on the cake. Add berries on top if you would like! :)
*

The egg whites and the water vary from mix to mix. So if the mix box says 3 eggs add 3 egg whites and if it calls for only 1 cup of water only put one cup of water. :)
Also I think it would be really cute to decorate and american flag on it with blueberries and strawberries on the 4th of July!
❤
Jenny
PS: Check out
much love monday
. Such a cute idea!