Jack is a
music lover
. Sometimes I think he loves music more than he loves me... hahaha I don't think I can top his love for music but he taught me to love
good music
too.
At the beginning of October Jack found out that
Bob Dylan
(Jack's idol) was going to play in Tallahassee, which is less than an hour from where we live.
FREAK OUT!
Haha he bought the tickets that day. And they WERE NOT
cheap
. Well the countdown begun for
November
11th! Last week Jack came home with a funeral look on his face and almost teary-eyed. He said that he had an email in his inbox to write a
REVIEW
on Bob Dylan concert. The show WAS on October 11th! It was a sad day, we lost out money and we'll probably never be able to see Bob Dylan live since he is getting pretty old, maybe too old to sing.
Well we found out the same week that one of our favorite bands
Iron and Wine
would be playing in Tallahassee so to make up for the unfortunate event we bought tickets for that and I cannot wait!!!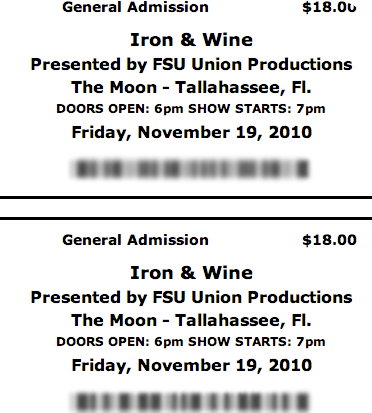 If you have never heard of
Iron and Wine
you should check them out
HERE
. One of their songs was in the
Twilight
soundtrack (
here
- it is also the song we were going to dance to at our wedding reception).
Here is a song/video I really like of them. Don't judge him by his beard. I don't like facial hair but his music is amazing.
Iron and Wine "Boy With a Coin"
from
Sub Pop Records
on
Vimeo
.
If the video isn't showing, click

HERE

, it will take you straight to the video. Forgive my poor blogging skills!
♥Jenny